Our Menu

PREMIUM WINES AVAILABLE BY THE GLASS
Appetizers & Soups
Oysters on the Half Shell 9.95
Oysters Rockefeller 8.95
Escargot 8.95
Toasted Ravioli 7.95
Mozzarella Sticks 7.50
Crab Stuffed Mushrooms 7.95
Crab Rangoon 8.50
Bentley's French Onion
Soup Bowl 4.95
Bentley's
Soup of the Day Bowl 4.95
Vegetable of the Day 2.75
Bordelaise Sauce 2.00
Bearnaise Sauce 2.00
Hollandaise Sauce 2.00
Children's Menu
Ages 12 & Under

Hamburger on a Bun 6.95
Cheeseburger on a Bun 7.25
Prime Rib of Beef 8.95
French Fried Shrimp 8.75
Breast of Chicken 7.95
(Grilled or Deep Fried)
Grilled Cheese Sandwich 6.75
Pasta with Red Sauce 6.75
All Children's Dinners served with salad and choice of rice or potato
Roast Prime Ribs of Beef Au jus
Our Specially Chosen Ribs, Encrusted in Sea Salt and Roasted to Juicy Perfection and Served with Salad and Choice of Rice, Potato or Vegetable
TEXAS CUT 14 oz. 29.95
A Generous Portion, Charbroiled to Perfection. NOT AVAILABLE RARE
ENGLISH CUT 8 oz. 23.95
Carved Thinner to Enhance the Rich Beefy Goodness
KING SIZE CUT 18 oz. 33.95
Larger cuts available upon request
Dinners include Salad & Choice of Rice, Potato or Vegetable
Poultry
APRICOT GLAZED CHICKEN 21.95
Breast of Chicken, Sauteed with Fresh Seasonal Vegetables
and Toasted Sesame Seeds
CHICKEN WELLINGTON 21.95
Breast of Chicken, with Mushrooms, Onions, Garlic and Sherry. Wrapped in a Flaky Puff Pastry
SMOTHERED TERIYAKI CHICKEN 21.95
Marinated Breast of Chicken, Topped with Onions, Peppers, Mushrooms & Swiss Cheese
CHICKEN BREAST OSCAR 22.95
Boneless Breast of Chicken, Sauteed in Butter with Seafood Stuffing, Garnished with Asparagus
Seafood
BUTTERFLIED JUMBO SHRIMP 23.95
Hand Breaded Gulf Shrimp, Deep Fried Golden Brown
STEAK AND SHRIMP 37.95
A 6 oz. Filet Mignon Served with Deep Fried Gulf Shrimp
MAHI-MAHI 22.95
Served Broiled or Grilled with a Spicy Honey
Garlic Glaze
SCALLOPS NEWBURG 26.95
Baked in a Light Cream Sauce and Topped with Bread Crumbs and Parmesan Cheese
BAKED SHRIMP SCAMPI 24.95
Jumbo Shrimp Baked with Garlic, Bread Crumbs, White Wine, Tomatoes, Onion and Parmesan Cheese
Bentley's KING CRAB LEGS
Priced Weekly
Flavorful Alaskan Crab Legs, Served Steaming
Hot with Drawn Butter
STEAK & KING CRAB LEGS
Priced Weekly
A Popular Tandem – A 6 oz. Filet Mignon and Crab Legs
LOBSTER TAILS
Priced Weekly
Broiled South African Cold Water Tails
STEAK & LOBSTER
Priced Weekly
A 6 oz. Filet and South African Cold Water Lobster
Steak & Chops
PRIME TOP SIRLOIN 8 oz. 26.95
A Full Flavored Classic Cut of Beef
BLACKBERRY PORK TENDERLOIN 10 oz. 22.95
Boneless Tenderloin, Grilled and Served with a Red Wine Vinegar Blackberry Sauce
CENTER CUT PORK CHOP 12 oz. 22.95
Bone-in Rib Chop, Marinated in Teriyaki Sauce, then Grilled…We Recommend Medium
STEAK NEPTUNE 6 oz. 36.95
A 6 oz. Filet Topped with Shrimp, Crabmeat, Asparagus and Sauce Bearnaise
KANSAS CITY STRIP SIRLOIN 14 oz. 31.95
NEW YORK PEPPER STEAK 14 oz. 32.95
Rolled in Cracked Pepper, and Served with Sauce Bordelaise or Bearnaise
FILET MIGNON PEPPER STEAK
6 oz. 31.95 8 oz. 36.95
Rolled in Cracked Pepper, and Served with Sauce Bordelaise or Bearnaise
Sauteed Mushrooms and Onions 4.75
The Lighter Side
VEGETARIAN PLATTER 17.95
A Variety of Fresh Steamed Vegetables, Rice and Potato of the Day. Served with Dinner Salad
SEARED AHI TUNA 17.95
Served on a Bed of Mixed Greens with a Wasabi Vinaigrette
Grilled Sirloin 6 oz. 19.95
Top Sirloin, Grilled and Basted with a Hoisin-Ginger Sauce
Herb Grilled Chicken 14.95
Breast of Chicken Marinated in Fresh Herbs and Lime Juice
Grilled Shrimp 14.95
Marinated in Olive Oil with Fresh Herbs and Citrus Juice
SLICED TOMATOES 4.95
Fresh Tomatoes Topped with Bleu Cheese Crumbles, Onions and Our Vinaigrette Dressing
Substitute for Dinner Salad 2.75
SPINACH SALAD 7.95
Tender Fresh Spinach Leaves Topped with Fresh Mushrooms, Crumbled Bacon, Croutons and Chopped Eggs
Substitute for Dinner Salad 2.75
CAESAR SALAD 7.95
Crisp Romaine Lettuce Tossed with Our Mild Anchovy Dressing, then Topped with Grated Parmesan Cheese
Substitute for Dinner Salad 2.75
ADD - Grilled Chicken With Salad 5.75
Crumbled Bleu Cheese 2.00
The Patio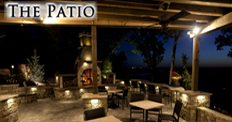 Enjoy our Patio!
Shrimp Cocktail 9.50
Large Gulf Shrimp served with cocktail sauce.
Grilled Shrimp 9.95
Marinated in Olive Oil, Fresh Herbs and Citrus.

Buffalo Shrimp
10.50
Stuffed with a Slice of Jalapeno, Wrapped in Bacon and Dipped in Buffalo Sauce.
Apricot Glazed Shrimp 13.95
Served with Fresh Seasonal Vegetables and Toasted Seasame Seeds.
Crab Rangoon 8.50
Served with a Sweet and Spicy Dipping Sauce.
Seared Ahi Tuna 17.95
Served on a bed of mixed greens with Wasabi Vinaigrette.
Oysters on the Half Shell 9.95
Fresh Gulf Oysters Served with Cocktail Sauce.
Grilled Lobster 18.00
4 oz. Tail, Grilled and Served with a Cilantro
Lime Butter.
Mini Chicken Quesadillas 8.95
Grilled Chicken, Cream Cheese, Onion and a Dash of Hot Sauce Wrapped in a Wonton.
Herb Grilled Chicken 10.95
Marinated in fresh herbs and
served with fresh seasonal vegetables.
Potato Skins 8.95
Loaded with Swiss, Cheddar Cheese and Bacon Bits.
Grilled Prime Rib Sandwich 14.95
Topped with Grilled Onions, Peppers and Smoked Swiss Cheese.
Filet Mignon Sliders 18.95
Thin Slices of Filet, Grilled and Basted with a Hoisin-Ginger Sauce and Served on Dollar Sized Rolls.
After Dinner Indulgences
Desserts
Cheesecake 5.50
With Fresh Strawberries 6.00
Pecan Ball, Bavarian Sauce 5.00

The "Thing" 5.50

Apple Crisp Ala Mode 5.95

Chocolate Sundae 4.75

Ice Cream or Sherbet 3.75

Fresh Strawberries 4.25

Ice Cream Finales
Traditionally
Tumbleweed 7.50

Copper Penny 7.50

Gold Cadillac 7.50

Pink Squirrel 7.50

Banana Banshee 7.50

Brandy Alexander 7.50

Grasshopper 7.50

Drambuie Ice 7.50

Velvet Hmmer 7.50

Specialties
Toasted Almond 7.50
Coconut, Amaretto & Cacao
Mont Blanc 7.50
Chambord, Sherbet, Vodka & Vanilla
Brown Betsy 7.50
Dark Chocolate, Amaretto & Cacao
Nutty Monk 7.50
Frangelico, Cacao & Butterfingers™
Peach Sunset 7.50
Schnapps, Vanilla, Orange & Brandy
Sinful Sundaes
French Vanilla or Rich Chocolate Ice Cream, topped with
Amaretto 7.50

Tia Maria 7.50

Chambord 7.50

Kahlua 7.50

Godiva 7.50

Nocello 7.50

Bailey's 7.50

Frangelico 7.50

Grand Marnier 7.50

Cognacs
Courvoisier VS 5.95

Courvoisier XO 13.00

Courvoisier VSOP 7.95

Martell Cordon Bleu 12.00

Coffee Drinks
Jamaican 5.95

Keoki 5.95

Irish 5.95

Spanish 5.95

Espresso 3.25

Cappuccino 3.75

Mocha Cappuccino 4.00

Latte 4.00

After Dinner Liqueurs
Chartreuse

Benedictine

Vandermint

B & B

Galliano

Kahlua

Sambuca

Chambord

Grand Marnier

Tia Maria